A Window on the United States. The Image of American Architecture in West Germany's Journals: 1947-1962
Keywords:
Post-War Germany, Americanism, Architectural Journals, Baukunst und Werkform, Baumeister
Abstract
This article aims to explore how American architecture was presented throughout the pages of two main architectural journals published in West Germany in the very first years after the end of World War II. The selected journals, Baukunst und Werkformand Baumeister, are rather independent magazines with opposite positions – the first is extremely oriented towards modernity and the latter is deeply conservative - and by no means can be considered as part of the cultural Cold War program. In spite of that, studying these magazines reveals how, in this particular period, it was impossible to avoid knowing, measuring and confronting the transatlantic world.
References
Ascher Barnstone, Deborah. The Transparent State: Architecture and Politics in Postwar Germany. London/New York: Routledge, 2005. DOI 10.4324/9780203799888
Cohen, Jean Louis. Scenes of the World to Come. European Architecture and the American Challenge, 1893–1960. Paris: Flammarion, 1995.
Cody, Jeffrey W. Exporting American Architecture 1870-2000. London: Routledge, 2002. DOI 10.4324/9780203986585
Diefendorf, Jeffry M. "The West German Debate on Urban Planning" Paper presented at the conference The American Impact on Western Europe: Americanization and Westernization in Transatlantic Perspective Conference held at the German Historical Institute Washington, D.C. in March 25–27, 1999.
Junker, Detlef, ed. The United States and Germany in the Era of the Cold War, 1945–1990. Vol 1: 1945-1968. New York: Cambridge University Press 2004.
DOI 10.1017/CBO9781139052436
Lefaivre, Liane and Alexander Tzonis, Architecture of Regionalism in the Age of Globalization: Peaks and Valleys in the Flat World. New York: Routledge, 2012.
DOI 10.4324/9780203720806
Müller, Christoph Hendrik. West Germans Against the West: Anti-Americanism in Media and Public Opinion in the Federal Republic of Germany, 1949-68. New York: Palgrave Macmillan, 2010. DOI 10.1057/9780230251410
Oldenziel, Ruth and Karin Zachmann, eds. Cold War Kitchen. Americanization, Technology, and European Users. Cambridge (Ma)/London: The MIT Press, 2009.
Schmiedeknecht, Torsten and Andrew Peckham, eds. Modernism and the Professional Architecture Journal. New York: Routledge, 2019. DOI 10.4324/9781315671543
Stonor Saunders, Frances. The Cultural Cold War: The CIA and the World of Arts and Letters. New York: The New Press, 1999.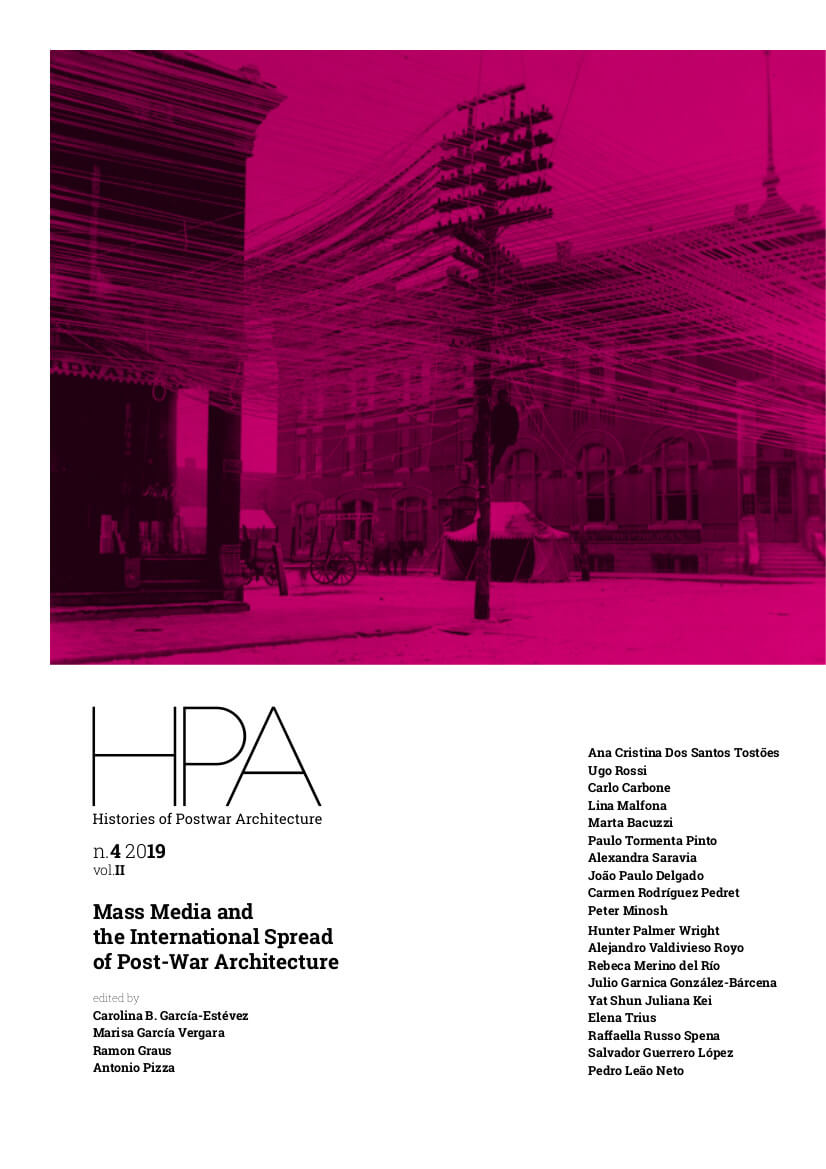 Downloads
How to Cite
Bacuzzi, M. (2019). A Window on the United States. The Image of American Architecture in West Germany's Journals: 1947-1962. Histories of Postwar Architecture, 2(4), 98–115. https://doi.org/10.6092/issn.2611-0075/9678
License
Copyright (c) 2019 Marta Bacuzzi
The copyrights of all the texts on this journal belong to the respective authors without restrictions. Authors grant to the journal a non-exclusive right to publish their work.
This journal is licensed under a Creative Commons Attribution 4.0 International License (full legal code).
See also our Open Access Policy.