The Best of All Possible Worlds. USA 1949-1959: God's Own Country
Keywords:
Marshall Plan, Cold War, Peter Harnden, The Caravan of Peace Exhibition, Atoms for Peace Exhibition
Abstract
After the 1945 atomic bombings over Hiroshima and Nagasaki, the awareness of the two world super powers – USA-URSS – that conventional arm would have not been adequate anymore for political confrontation, led the two opposite blocks to the Cold War, fought almost exclusively on the basis of persuasion. Following WWII, the US, having to face the quick and unwanted unfolding of communism over the rubles and ruins of Europe, decided to organize their own propaganda machine to contrast the Soviet "soft power". This paper intends to deal with the persuasive intent delivered by the US – with Shows, Exhibitions, International Fair and the help of the whole government apparatus – in order to convincingly popularize the advantages of their way of living throughout the world. It will be pointed out how, in cultural and anthropological terms, such initiatives led to the penetration of American culture, a sort of colonization, all over the world. An enormous endeavor of persuasion aimed to inform and convince that what the American way of life could secure to everybody would have been, amongst other things, a prosperous world of freedom, the best of all possible worlds. 
References
"A Orgeval, fuori Parigi." Domus, no. 366, (Maggio 1960): 3-7.
"Alle porte di Parigi." Domus no. 327, (Febbraio 1957): 45.
"Ausellungen der USA in Europe." Innenarchitektur, no. 7, (Januar 1956): 399-412.
"Brussels '58: The United States speak to the world. Progress Report.
Interiors. CXVII, # 2, (September 1957): 128-141.
"Design for Use, USA." Information bulletin (May 1951): 26.
"'Europa-Zug' In Munich on Eve of Tour." Information Bulletin (May 1951): 73.
"Four mobile exhibitions", The Architectural Review, no. 675 (April 1953): 216-225.
"La Casa senza frontiere." Domus, no. 298 (Settembre 1954): 20-22.
"Mostra Atomica." Domus, no. 294, (Maggio 1954): 64-66.
"Train Of Europe." Information Bulletin, (September 1951): 23-24.
"We Build a Better Life." Information bulletin, (February 1953): 2.
Books, Exhibits and Cultural Activities in the Overseas Information Program. Washington: USIA, 1956.
Foreign-aid Program in Europe: Report of the Investigations Division of the Committee on Appropriations, United States Senate, Relative to Activities of the Foreign-aid Program in France and in the Regional Offices of the MSA in Paris. Washington: U.S. Government Printing Office, 1953.
This is America: Official U.S. Guide Book: Brussels World's Fair 1958. Brussel: The Office of the U.S. Commissioner General, 1958.
Blake, Peter. No place like Utopia: Modern architecture and the company we kept. New York: Knopf, 1993.
Bradbury, Ray. Fahrenheit 451. New York: Ballantine Books, 1953.
Bradbury, Ray. The Martian Chronicles. New York: Doubleday, 1950.
Castillo, Greg. Cold War on the home front: The soft power of midcentury design. Minneapolis: University of Minnesota Press, 2010.
Compton, Wilson. "Cold War." In Foreign Relations of the United States, 1952-1954, National Security Affairs, 1645. Vol. II. Part 2. A/MS Files, Lot 54 D 291. Washington: 1984.
Gentili, Eugenio. "Architettura americana per esposizioni." Comunità, no. 32 (Settembre 1955): 34-37.
Harlepp, Marjorie. "U.S. Revises Home Show At Fair Site." New York Times, (May 6, 1958).
Howard Calkind, "OEEC Truck Caravan", Information Bulletin (October 1950): 33-34.
Huxley, Aldus. Brave New World. London: Chatto & Windus, 1932.
Huxley, Aldous. Brave New World Revisited. New York: Harper & Brothers, 1958.
Leitl, Alfons. "Wir bauen ein neues leben." Baukunst und Werkform. no. 12 (1952): 39-50.
Masey, Jack and Convay Lloyd Morgan. Cold War Confrontations. Baden: Lars Müller, 2008.
Morris, D. John. "Brussels Exhibit Irks Eisenhower." New York Times (June 18, 1958).
Oldenziel, Ruth and Karin Zachmann. Cold war kitchen: Americanization, technology, and European users. Cambridge: MIT Press, 2009.
Orwell, George. "You and the Atomic Bomb." Tribune, (October 14, 1945).
Orwell, George. "You and the Atomic Bomb." In The Collected Essays, Journalism And Letters of George Orwell, Vol. IV, edited by Sonia Orwell and Ian Angus, 6-10. London: Secker & Warburg, 1968.
Orwell, George. 1984. London: Secker & Warburg, 1949.
Rudofsky, Bernard. On exhibition design. Unpublished conference, International House, Tokyo, December 5, 1958. Rudofsky Papers, Getty.
The International Atomic Energy Agency. Washington: US Department of State, 1957.
Waggoner, H. Walter. "Guidebook to Aid U.S. Fair Exhibit." New York Times (May 11, 1958).
Zevi, Bruno. Toward an organic architecture. London: Faber & Faber, 1950.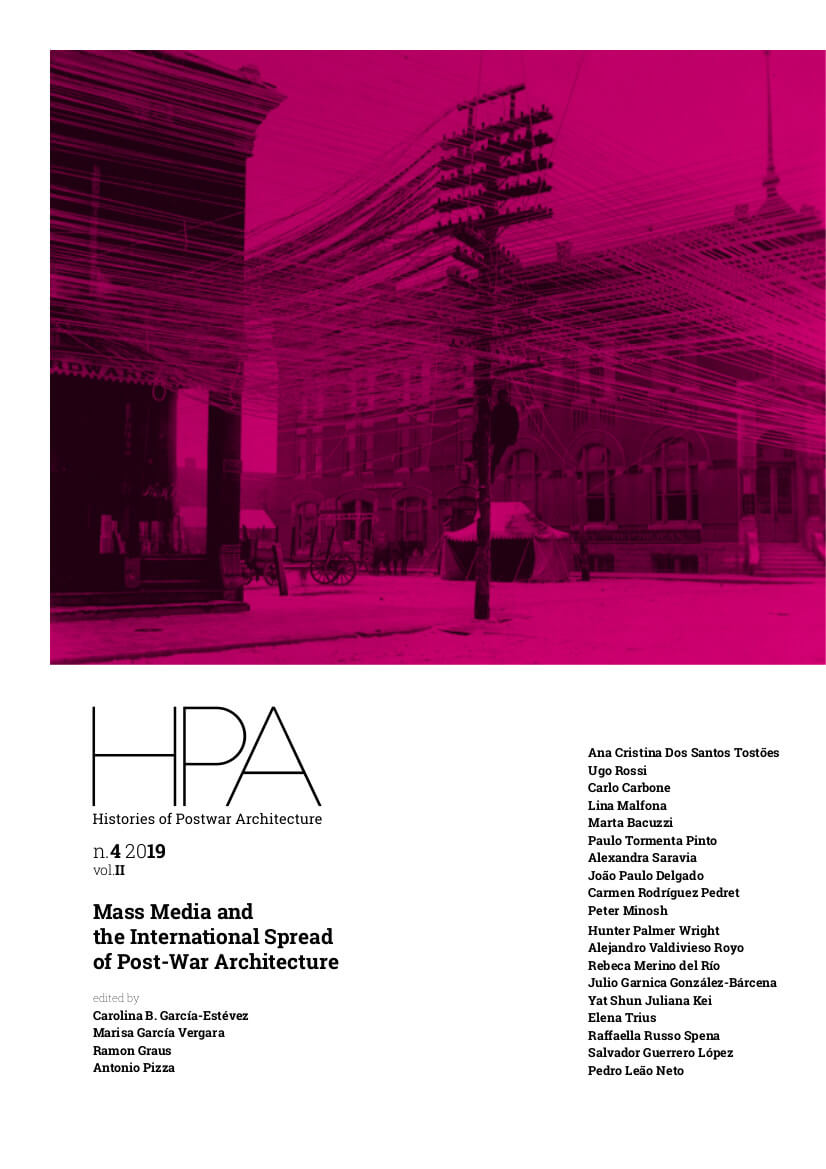 Downloads
How to Cite
Rossi, U. (2019). The Best of All Possible Worlds. USA 1949-1959: God's Own Country. Histories of Postwar Architecture, 2(4), 26–53. https://doi.org/10.6092/issn.2611-0075/9667
License
Copyright (c) 2019 Ugo Rossi
The copyrights of all the texts on this journal belong to the respective authors without restrictions. Authors grant to the journal a non-exclusive right to publish their work.
This journal is licensed under a Creative Commons Attribution 4.0 International License (full legal code).
See also our Open Access Policy.