Gaudí in the US: New Foundations in Post-War Architecture Criticism
Keywords:
Collins, Gaudí, Architecture, Barcelona, Post-War Criticism
Abstract
George Collins' book "Antonio Gaudí" was published as part of the collection "The Mas- ters of World Architecture Series" in 1960. In a moment of theoretical fragmentation around the gure of the architect, it quickly became a key text in the subsequent criticism study of the architectural work of Gaudí, and still today it is known as the first extensive monograph published in the English language. 
References
Collins, George R. Antonio Gaudí. New York: George Braziller, Inc., 1960
Lahuerta, Juan José. Univers Gaudí. Barcelona: Diputació de Barcelona, 2002.
Hitchcock, Henry-Russell. Gaudí. New York: Museum of Modern Art, 1857.
Martinell, César. Antonio Gaudí. Milano: Electa, 1955.
Bohigas, Oriol. Reseña y catálogo de arquitectura modernista. Barcelona: Lumen, 1973.
Moneo, Rafael. "Sobre Gaudí" Arquitectura 75 (1965): 9-14.
Mackay, David. "Antonio Gaudí, por G. R. Collins / Antonio Gaudí, por J. J. Sweeney y J. Ll. Sert" Cuadernos de Arquitectura, no. 46 (1961): 46-47.
Sweeney, James Johnson and Josep Lluis Sert. Antoni Gaudí. Stuttgart: Verlag Gerd Hatje, 1960.
Lahuerta, Juan José. "Sert i Gaudí" In Sert, 1928-1979: obra completa: mig segle d'arquitectura, edited by Josep Maria Rovira, 174-179. Barcelona: Fundació Joan Miró, 2005.
C. Construcción de la Ciudad, no. 4, 1975.
Martín Nieva, Helena. "El MoMA y la Gomis-Prats connection, 1946-1960: Joan Miró, Antoni Tàpies y Antoni Gaudí" In Destino Barcelona, 1911-1991. Arquitectos, viajes e intercambios, edited by Josep M. Rovira, Enrique Granell and Carolina B. García, 145-159. Barcelona: Fundación Arquia, 2018.
Freixa, Mireia. "George R. Collins i els Amics de Gaudí USA" L'Avenç, no. 408 (jan. 2015): 36-41.
Barr, Alfred H. Fantastic art, dada, surrealism. New York: The Museum of Modern Art, 1936.
Bassegoda i Nonell, Joan. "La conferencia de Dalí en el Parque Güell en 1956", Boletín de Arte, no. 28, (mar. 2018): 610.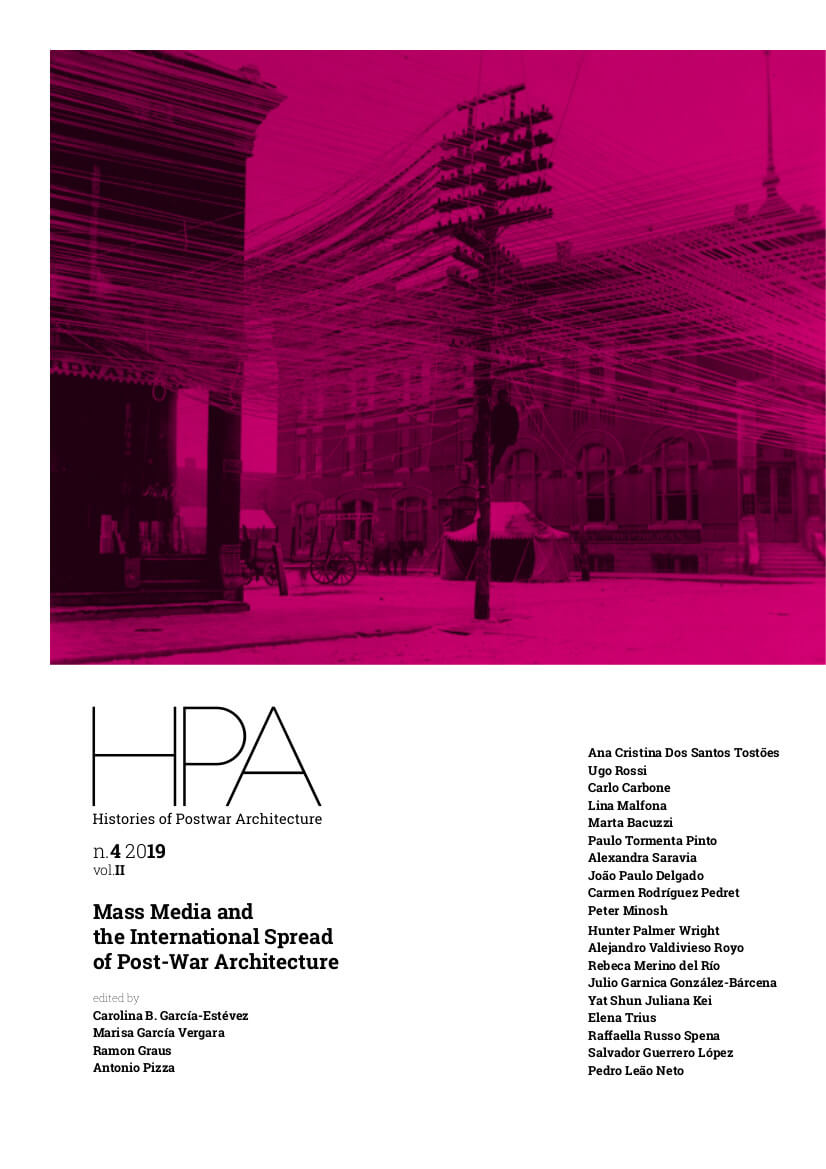 Downloads
How to Cite
Trius, E. (2019). Gaudí in the US: New Foundations in Post-War Architecture Criticism. Histories of Postwar Architecture, 2(4), 256–260. https://doi.org/10.6092/issn.2611-0075/9663
License
Copyright (c) 2019 Elena Trius
The copyrights of all the texts on this journal belong to the respective authors without restrictions. Authors grant to the journal a non-exclusive right to publish their work.
This journal is licensed under a Creative Commons Attribution 4.0 International License (full legal code).
See also our Open Access Policy.