The Kit of Parts as Medium and Message for Developing Post-war Dwellings
Keywords:
Architecture, Modern Architecture in the United States, The Case Study House Program, Buckminster Fuller, Autonomous Dwelling, House of the Future, Kit of Parts Domes, Prefabrication, Construction Industrialization, Plastic Houses
Abstract
Since the construction of the Crystal Palace by Joseph Paxton in 1851, the manufactured component became the basis for the efficient production of architecture. Making buildings from a kit of parts is a manifestation of a series of interrelated themes in architecture and its writings emerging and evolving from the mid nineteenth to the mid twentieth century: the converging of architecture with mass production, the transference of military expertise to civilian use and a search for new dwelling types for cold war subsistence. These concepts reformed construction and industrialization of construction would parallel the advances made in commodity production. The revolution in manufacturing was accompanied by and magnified social transformations leading to an ever-increasing demand for affordable urban housing. This major growth contributed to one of architectural modernity's foremost quests: designing the post war house. The modern dwelling echoed new architectural values and was the focal point of architectural literature in periodicals, planning and technical journals. The manufactured architectural kit, a tool for flexibility, adaptability, resilience and mobility, placed synchronized design and production along with affordability as its main selling points and became an emblem of innovative post-war dwelling schemes. Proposed by Walter Gropius in his infamous manifesto (1909) and developed later with Konrad Wachsmann as the packaged house, the kit of parts ideology infiltrated architecture's production. The manufactured kit symbolized a new era and would bring quality architecture to the masses. Along with a look back at its evolution, three significant productions showcase the kit as both medium and message for developing a Post-War dwelling: Arts and Architecture's Case Study House Program and its influence in California and beyond, Buckminster Fuller's Standard of Living Package and plastic shell construction for the House of the Future, not only portray the evolution of modernity through post-war American domesticity but also express the underlying theme of how kit architecture would realize the longstanding dream of the factory made house and even make a case for a kit of parts urbanism in the latter half of the twentieth century.
References
Asher B. 1827. The American builder's companion : or, A system of architecture, particularly adapted to the present style of Building. Boston. R.P.&C Williams
Bemis A. F. 1933. The Evolving House, Volume III: Rational Design. Cambridge: Technology Press.
Blanchet E and Zhuravlyova. 2018. Prefabs – A Social History. Swindon: Historic England.
Burn RS. 1877. Building Construction. London
Burnham K. 1951. The prefabrication of Houses. Cambridge : MIT Press.
Colomina B., Brennan A., Kim J. (Ed). 2004 Cold War Hothouses. New York. Princeton Architectural Press.
Cuff, D. 2000. The Provisional City: Los Angeles Stories of Architecture and Urbanism. Cambridge: MIT Press.
Davies C. 2005. The Prefabricated House. London: Reaktion Books.
Dietz A.G.H. et Cutler L.S. 1971. Industrialized Building Systems For Housing. Cambridge: MIT Press.
Eames C. 1944. What is a house ? in Arts and Architecture. July 1944
Entenza J. 1945. The program in Arts and Architecture. January 1945
Goldstein B (ed). 1990. Arts and Architecture – The Entenza Years. Cambridge: MIT Press.
Gough. 2009. Backyard Landing, Three Structures By Buckminster Fuller in New Views on Buckminster Fuller, ed. Hsiao-Yun Chu and Roberto G. Tujillo. Stanford: Stanford University Press.
Herbert G. 1984. Dream of the Factory-Made House: Walter Gropius and Konrad Wachsmann. Cambridge: MIT Press.
Hoffmann M and Humery M. 2017. (preface) Jean Prouvé – Architectes des jours meilleurs. Paris. Luma Foundation Phaidon.
Meyer-Bohe W. 1959. Prefabricated Houses (translated from German). München: Verlag Georg D.W. Callwey.
Nishi K and Hozumi K (tr Horton M.). 1985. What is Japanese Architecture New York: Kodansha International.
Gottfried S. 1851. The four elements of architecture. Cambridge: Cambridge University Press
Soojung-Kim Pang A. 1996. Dome Days: Buckminster Fuller in the Cold War in Cultural Babbage: Technology, Time and Invention, ed. Spufford and Uglow. London: Faber & Faber.
Reid P. 2012. Stories From the Iron Houses Resource Kit. City Of Port Phillip Cultural Development Fund see https://www.nationaltrust.org.au/places/portable-iron-houses/ accessed on June 26 2019
Rudofsky B. 1964. Architecture without Architects. New York: Doubleday and Company Inc.
Vergnot-Kriegel C (ed) with Merlino C and Delprat É. 2011. Maisons en Kit. Paris : collection anarchitecture Alternatives.
Vogler A. 2015. The house as Product . Amsterdam : IOS Press.
Wong YC. 1999. The Geodesic Works of Buckminster Fuller 1948-68. PhD diss. M.I.T.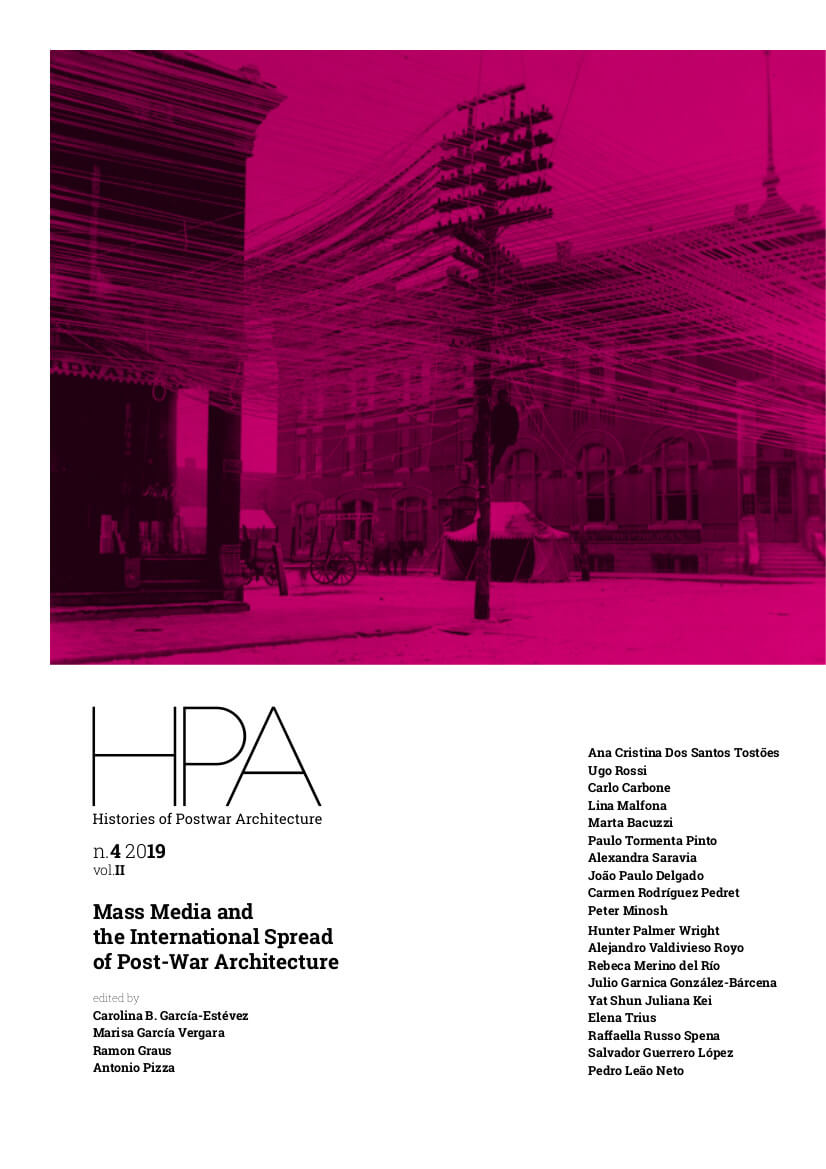 Downloads
How to Cite
Carbone, C. (2019). The Kit of Parts as Medium and Message for Developing Post-war Dwellings. Histories of Postwar Architecture, 2(4), 54–74. https://doi.org/10.6092/issn.2611-0075/9648
License
Copyright (c) 2019 Carlo Carbone
The copyrights of all the texts on this journal belong to the respective authors without restrictions. Authors grant to the journal a non-exclusive right to publish their work.
This journal is licensed under a Creative Commons Attribution 4.0 International License (full legal code).
See also our Open Access Policy.