The Emergence of the Arab Engineer: Saba George Shiber, Arab Consulting Engineers (ACE) and Dar al-Handasah
Keywords:
Arab engineers, Oil boom, Planning-architecture, Architecture-Engineering, Shiber
Abstract
The relationship between architects and consumers in the Gulf cities is a commercial and temporal bond rather than a cultural, dynamic, and interactive one. The dearth of historical and premodern architectural monuments and structures in the Arabian desert combined with the rapid oil construction boom of the second half of the 20th century only further challenged the evolution of the socio-cultural association with architecture. With every new ruler, top planning and architecture firms from around the world are commissioned to speculate on the question of the cultural identity of the Arab-Islamic nation and create its image anew through urban renewal and redevelopment schemes. While in constant pursuit of the national image of a modern Arab nation, Gulf cites are invested in master plans, lucrative structures, and monumental buildings that homogenize as abstracted jungles of concrete and glass.
The sociocultural structure of Arab Gulf states has indeed fostered rapid urbanization and hindered the evolution of an Arab discourse on architecture. The lack of professional autonomy for architecture as a practice and a discourse promoted a unique interdisciplinary approach to the building industry combining the fields of design, planning, and construction or what I call planning-engineering. Such a design approach blurs the line between the fields of architecture, city planning and engineering into one expert al-Muhandis, a term inclusive of all scientific and technical fields related to the built environment. In this paper, I trace the emergence of Arab engineering consultancies that shaped the urban scene of Gulf cities even today.
References
Al-Asad, Mohammad. Contemporary Architecture and Urbanism in the Middle East. Gainesville: University of Florida, 2012.
Al-Nakib, Farah. Kuwait Transformed, A History of Oil and Urban Life. Stanford University: California, USA, 2016.
Camacho, Ricardo, Sara Saragoça, and Roberto Fabbri. Essays, Arguments and Interviews: Modern Architecture Kuwait. Salenstein, Switzerland: Niggli, 2018
Fabbri, Roberto. Sara Saragoça, and Ricardo Camacho. Modern Architecture Kuwait: 1949-1989. Zurich: Niggli, 2016.
Gropius, Walter. The Architects Collaborative TAC. Teufen, Switzerland: Niggli, 1966.
_____. Scope of Total Architecture. Springfield: Collier Books, 1955.
Gropius, Walter Translated by P. Morton Shand. The New Architecture and the Bauhaus. Cambridge, MA: The MIT Press.
Himes, Adam. "Competing Visions for a Modern Emirate: The Government Centre of the State of Qatar." In International Journal of Islamic Architecture 7, no. 1 (2018): 143-169.
Koolhaas, Rem. Reinier de Graaf, Iyad Alsaka, and Todd Reisz. Al Manakh 2 cont'd. Amsterdam: Stichting Archis, 2010.
Kubo, Michael. "Architectural Incorporated: Authorship, Anonymity, and Collaboration in Postwar Modernism", PhD diss., GSD-Harvard, 2018.
Mumford, Eric Paul. Defining Urban Design: CIAM Architects and the Formation of a Discipline, 1937-69. New Haven: Yale University Press, 2009.
Mumford, Lewis. The Culture of Cities. New York: Harcourt, Brace & World Inc., 1938.
Shair, Kamil A. and Peter Bartram. Out of the Middle East: The Emergence of an Arab Global Business. London New York: I. B. Tauris, 2006.
Shiber, Saba George. The Kuwait Urbanization: Documentation, Analysis, Critique. Kuwait: Kuwait Government Printing Press, 1964.
_____. "Special Repot from Cairo," Middle East Forum, (July 1962): 17-8.
_____. "'Engineering Conference in Cairo' Part II," Kuwait Times, (05/30/1963): 4-5.
_____. "A School of Design and Engineering for the Proposed 'Jerusalem University'." Master's thesis, Massachusetts Institute of Technology, 1947.
_____. "A University City for the Proposed Jerusalem University," Master's thesis, Massachusetts Institute of Technology, 1948.
_____. "Urban Formation and Reformation: A Descriptive and Critical Analysis" Ph.D. Diss., Cornell University, 1956.
Sheikh Abdullah al-Salim al-Sabah biography at: https://biography.yourdictionary.com/shaykh-abdullah-al-salim-al-sabah (accessed 09/24/2020).
ACE History in https://www.ace-intl.com/history.php, (accessed 12/28/2020)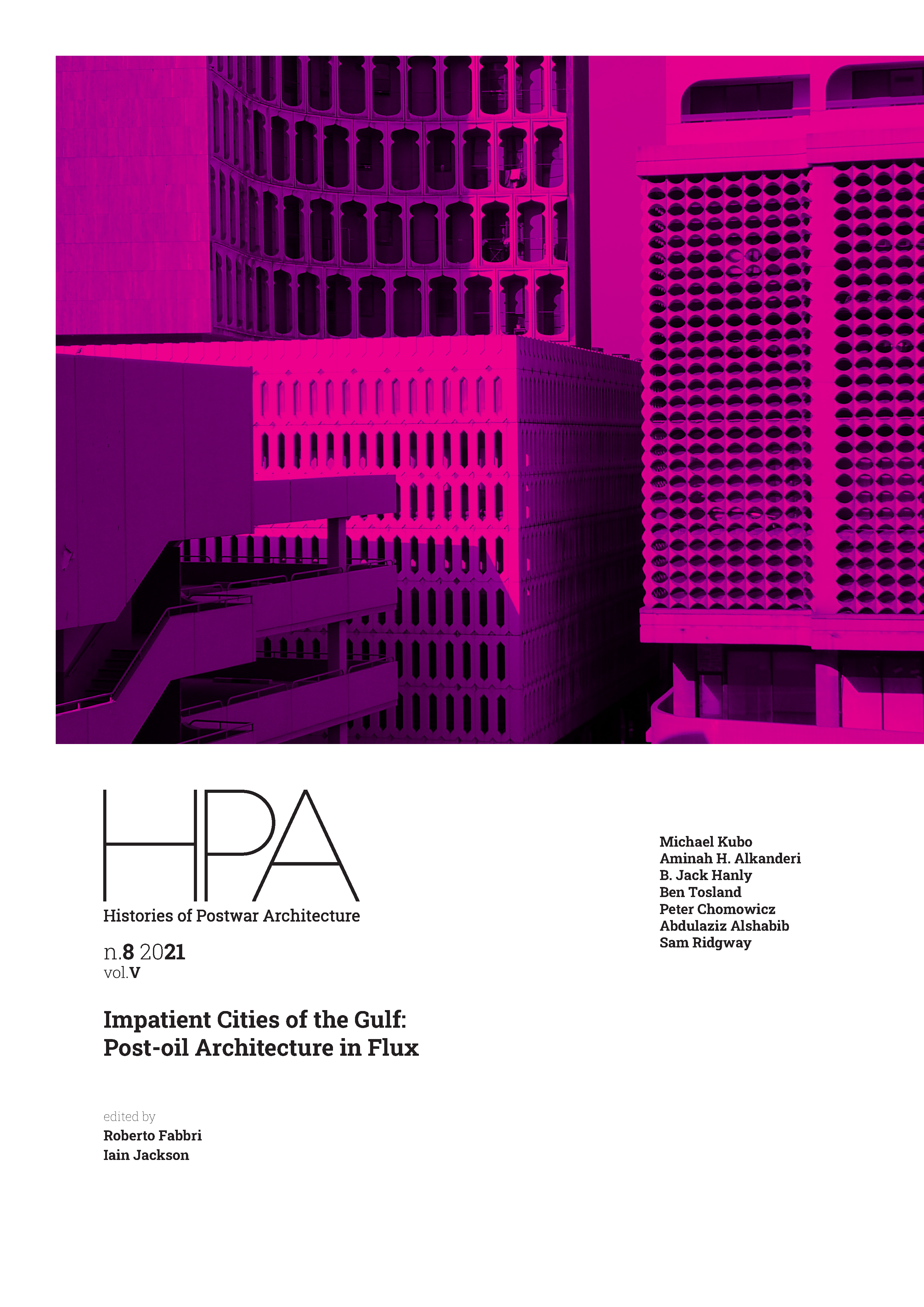 Downloads
How to Cite
Alkanderi, A. H. (2021). The Emergence of the Arab Engineer: Saba George Shiber, Arab Consulting Engineers (ACE) and Dar al-Handasah. Histories of Postwar Architecture, 5(8), 43–68. https://doi.org/10.6092/issn.2611-0075/12152
License
Copyright (c) 2022 Aminah H. Alkanderi
This work is licensed under a Creative Commons Attribution 4.0 International License.