Reversing the Exchange: Yugoslav Architectural Exports to Czechoslovakia
Keywords:
Yugoslavia, Czechoslovakia, Export, Technology, Construction
Abstract
The paper aims to map out the numerous projects in Czechoslovakia realized by Yugoslav construction companies from the 1960s to the 1980s and offers the preliminary insights into their modes of operation. Due to insufficient archival records, the paper offers a preliminary insight into the matter. However, with the extensive coverage of these projects in the Czechoslovak professional periodicals, it was possible to trace down fifty projects, done by companies from Serbia, Croatia and Macedonia. Interviews with the surviving protagonists and contemporaries of these collaborations provided detailed introspect into the mechanisms of the processes, with local architects typically responsible for the overall design, while Yugoslav companies provided the design development, technological know-how, construction services, and materials. These insights contribute to a growing body of knowledge about the exports of architecture from Europe's socialist half during the Cold War and broadens the narrative of international architectural circulation, while unpacking the usual presumptions on "developed" and "und(er)developed". The paper points to other routes based on the cooperation within the socialist world, but nevertheless across a geopolitical division, the one that separated the non-aligned Yugoslavia and the Warsaw Pact-member Czechoslovakia.
References
Andrašova, Katarina, Batrošova, Nina: Konček Skoček Titl (exhibition catalog). Bratislava: Slovenska Technicka Univerzita, 2013. Available on https://issuu.com/boostrapata/docs/akst-katalog_print_opt, accessed 8.6.2020.
Adžić, Mara (ed.): 25 godina građevinarstva socijalističke Jugoslavije. Beograd: Tehnika, 1970.
Archer, Rory: 'It was better when it was worse': blue-collar narratives of the recent past in Belgrade. Journal Social History, Volume 43, 2018 - Issue 1, p.30-35. Available on https://www.tandfonline.com/doi/full/10.1080/03071022.2018.1393997, accessed 4.6.2020.
Barišić, Mate (ed.): 20 godina Geoexpert. Zagreb: Institut Geoexpert, 1985.
Damljanović, Tanja: Češko-srpske arhitektonske veze 1918-1941. Beograd: Republički zavod za zaštitu spomenika kulture, 2004.
Jarić, Miloš: 40 godina građevinarstva Socijalističke republike Srbije. Beograd: Izgradnja (posebno izdanje), 1987.
Jovanović, Jelica: Mass Heritage of New Belgrade: Housing Laboratory and So Much More. Budapest: Periodica Polytechnica Architecture, 48(2), pp. 106-112, 2017. Avalieble at https://doi.org/10.3311/PPar.11621, accessed 6.6.2020.
Moravčikova, Henrieta, Topolčanska, Maria, Szalay, Peter, Dulla, Matuš, Ščepanova, Sona, Tocherova, Slavka, Haberlanova, Katarina: Bratislava. Atlas of Mass Housing. Bratislava: Slovart, 2011.
Obradović, Marija: Hronika tranzicionog groblja. Privatizacija društvenog kapitala u Srbiji 1989-2012. Ekonomsko-istorijska analiza. Beograd: Nova srpska politička misao i Inistitut za noviju istoriju Srbije, 2017.
Perišić, Života (ed.): Jugoslovensko građevinsko konstrukterstvo u inostranstvu. Beograd: Savez društava građevinskih konstruktera, 1985.
Perović, Radovan (ed.): Pravilnik i organizaciji i načinu poslovanja GK Komgrap u inostranstvu. Beograd: Biro za informacije u propagandu GK Komgrap, 1975.
Platzer, Monika: Cold War and Architecture. The Competing Forces that Reshaped Austria after 1945. Zurich: Park Books, Vienna, Architekturzetrum Wien, 2020.
Privredna politika Vlade FNRJ: Zapisnici Privrednog saveta Vlade FNRJ 1944-1953, vol.2. Beograd: Arhiv Jugoslavije, 1995.
Putnik, Vladana: Arhitektura Sokolskih domova u Kraljevini SHS i Kraljevini Jugoslaviji. Beograd: Filozofski fakultet Univerziteta u Beogradu, 2015.
Roter Blagojević, Mirjana: Jan Nevole, prvi moderni arhitekta u Beogradu, https://www.researchgate.net/publication/331224557_Jan_Nevole_prvi_moderni_arhitekta_u_Beogradu, accessed 4.6.2020.
Samoupravni sporazum o medjusobnim odnosima u udruženom radu radnika osnovnih orgamizacija udruženog rada "KMG Trudbenik" – Beograd i "GP Rad" – Beograd u organizacionim jedinicama u Čehoslovačkoj. Beograd: "KMG Trudbenik", "GP Rad", 1974.
Sekulić, Dubravka, Krstić, Katarina, Dolinka, Andrej: Three points of Support: Zoran Bojović. Belgrade, Museum of Contemporary Art, 2013.
Selinić, Slobodan: Jugoslovensko – čehoslovački odnosi 1945-1955. Beograd: Institut za noviju istoriju Srbije, 2010.
Yugoslav investment works abroad. Belgrade: Yugoslavia Export, n.d.
Von Halkowich, Alfons: Die Eisenwerke Osterreich-Ungarns. Wien, 1911.
Vučetić, Radina, Bets, Pol (eds.): Tito u Africi. Slike Solidarnosti. Beograd: Muzej Jugoslavije, 2017.
Zarecor, Kimberly Elman: Manufacturing a Socialist Modernity: Housing in Czechoslovakia, 1945-1960. Pittsburgh: University of Pittsburgh Press, 2011.
Journals, magazines:
Architektura ČSR. Praha: Klub Architektů, 1939-1990.
Architektura urbanizmus. Bratislava: Ústav stavebníctva a architektúry SAV, 1960-2015.
Hidrogradnja. List kolektiva građevinskog preduzeća "Hidrogradnja" – Čačak, no. 19, 20. Čačak: Hidrogradnja, 1976.
Izgradnja. Časopis Saveza građevinskih inženjera i tehničara SR Srbije i Saveza društava arhitekata Srbije, no. 12/72, 8/73, 12/78, 11-12/88. Beograd: Izgradnja, 1972, 1973, 1978, 1988.
Trudbenik. List preduzeća za projektovanje i izvođenje montažnih i opštegrađevinskih radova "KMG Trudbenik", no. 225. Beograd: KMG Trudbenik, 1.4.1977.
Projekt: Revue slovenskej architektúry. Bratislava: Spolok architektov Slovenska 1955-1990.
Unpublished material:
Arhiv Jugoslavije (AJ), Fond 130 - Savezno izvršno veće – SIV, Propisi RS, folder 106, 612, 619
Arhiv Jugoslavije (AJ), Fond 187 - Savezna uprava za investicionu izgradnju, folders 10, 11
Arhiv Jugoslavije (AJ), Fond KPR - Kabinet predsednika Republike, folder 1-5-b-19
Istorijski arhiv Beograda (IAB), Fond KMG Trudbenik, folder 14
KMG Trudbenik: Referent lista. Objekti koji su izgrađeni u Češkoj 1965-1995. Centar za istraživanje i marketing, n.d.
Međuopštinski istorijski arhiv u Čačku (MIAČ), Fond GP Hidrogradnja Čačak, box 171
Muzej nauke i tehnike (MNT), photo collection "KMG Trudbenik", envelope 22, 23
Slovenský národný archív (SNA), Fond Česko-slovenska vedecko-technicka spoločnost (ČSVTS)
Slovenský národný archív (SNA), Fond Zvaz slovenskych architektov (ZSA)
Audio interviews:
Aco Arizanović, retired employee of "Neimar" construction company (construction site of Hotel Krym), Trenčianske Teplice, 07.04.2017.
Bogdan Budimirov, architect, Zagreb, 13.02.2015.
Bohuslav Pernecký and Anna Pernecká, architects, Pieštany, 20.06.2015.
Il'ja Skoček, architect, Bratislava, 01.06.2015.
Jan Kristek, architectural historian, 03.04.2017.
Peter Szalay, arcitectural historan, Bratislava, 16.06.2015.
Consults from Henrieta Moravčikova, L'ubica Vitkova, Martin Zaiček, Jan Pernecký, Jaroslav Sedlák
Web pages:
https://web.archive.org/web/20180819030410/http://komgrap.com/proba/index.php?lang=sr, accessed 05.01.2020.
https://cs.wikipedia.org/wiki/Drákulov, accessed 05.01.2020.
https://www.euro.cz/archiv/drakulov-zmenil-majitele-808066 , accessed 05.01.2020.
http://www.montinvest.co.rs/projects/czechia_and_slovakia.171.html , accessed 05.01.2020.
Dimitrijević, Branka: Arhitekt Karlo Paržik, http://www.karloparzik.com/Disertacija.html, accessed 4.6.2020.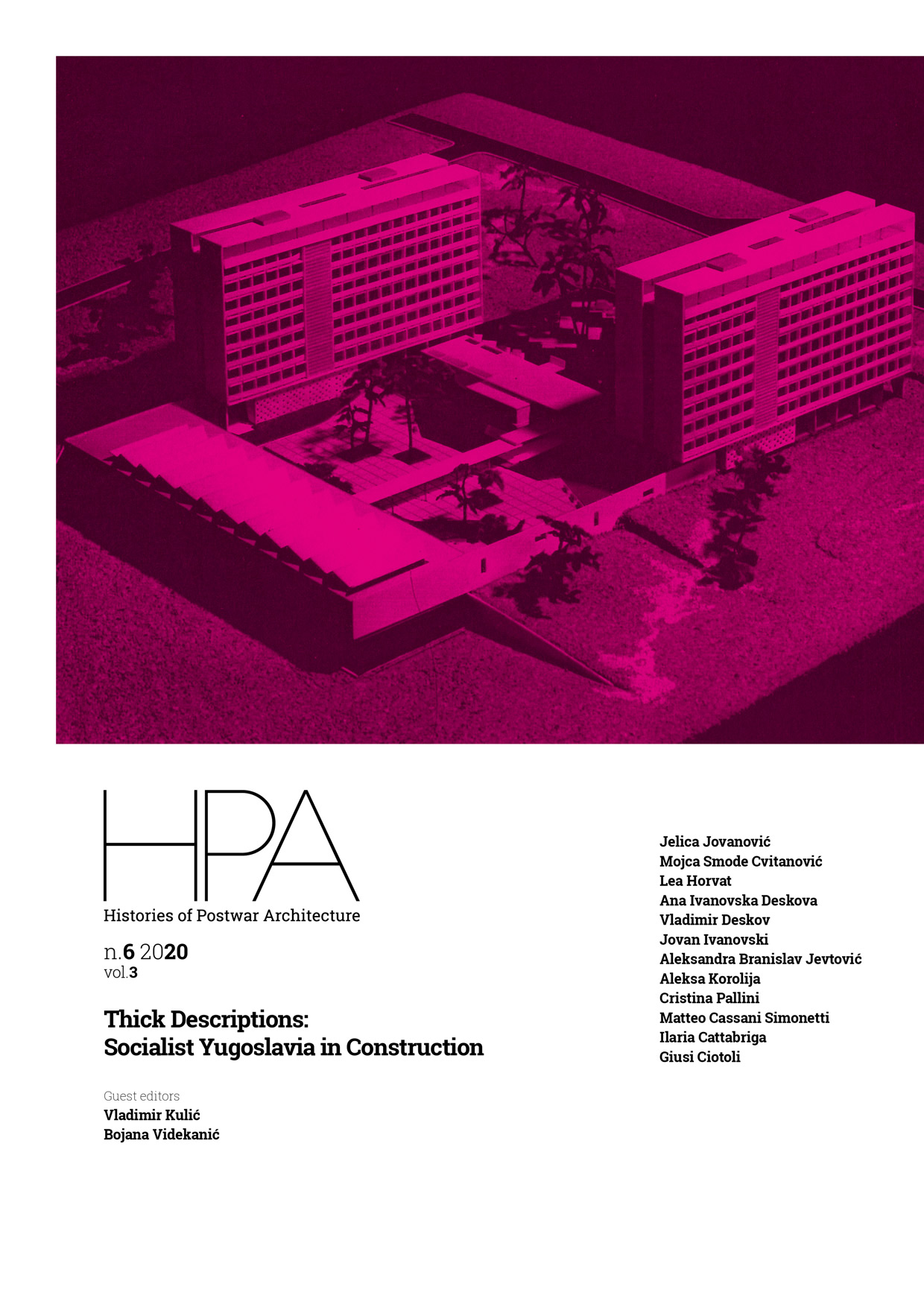 Downloads
How to Cite
Jovanović, J. (2020). Reversing the Exchange: Yugoslav Architectural Exports to Czechoslovakia. Histories of Postwar Architecture, 3(6), 8–33. https://doi.org/10.6092/issn.2611-0075/10416
License
Copyright (c) 2020 Jelica Jovanović
This work is licensed under a Creative Commons Attribution 4.0 International License.