Constructing the City of Solidarity: Alfred Roth's Elementary School in Skopje
Keywords:
modern, education, elementary school, Alfred Roth
Abstract
In 1963 Skopje suffered earthquake of catastrophic proportions that left the city reduced to rubble. What followed afterwards was a case of immense international solidarity. For more than a decade, abundance of aid has been coming from the both sides of the Iron Curtain. In a short but high in intensity period of approximately 15 years, the city underwent a process of reconstruction that changed entirely its appearance and the quality of living.
In this context, with a strong belief in the importance of a high-quality modern education, the Swiss government donated the design, financed the construction and equipped an exemplary school building, designed by Alfred Roth and named after the renown Swiss pedagogue Johann Heinrich Pestalozzi.
References
Carpani, Bruno. "Base isolation from a historical perspective", 16WCEE – World Conference on Earthquake Engineering, Santiago, Chile, 2017, retrieved from: https://www.researchgate.net/publication/320020691_BASE_ISOLATION_FROM_A_HISTORICAL_PERSPECTIVE
Ivanovska Deskova, Ana. "The Architecture of the Post-Earthquake Renewal of Skopje." PhD diss. University Ss. Cyril and Methodius in Skopje, 2015.
Ivanovska Deskova, Ana. "Determination of Methods and Procedures for Protection of Modern Heritage in Republic of Macedonia; The Example of The Elementary School Johann Heinrich Pestalozzi in Skopje." Master Thesis. University Ss. Cyril and Methodius in Skopje, 2009.
Hertzberher, Herman. Space and Learning. Rotterdam: 010 Publishers, 2008.
Kostov, Kočo, Pestalozzi. Skopje: Ars Lamina, 2014.
Langford, W.J. 19th International Conference on Public Education, UNESCO. BIE, Geneva, July, 1956, retrieved from https://unesdoc.unesco.org/ark:/48223/pf0000225908
Makris, Nicos. "Seismic isolation: Early history" in Earthquake Engineering and Structural Dynamics, October, 2018, retrieved from https://www.researchgate.net/publication/327839319_Seismic_isolation_Early_history
Mrduljaš, Maroje, Vladimir Kulić, Dražen Arbutina, and Udruženje Hrvatskih Arhitekata, eds. Unfinished Modernisations: Between Utopia and Pragmatism. Zagreb: UHA/CCA, 2012.
Naeim, F. and J. M. Kelly, Design of seismic isolated structures: From Theory to Practice, New York: John Wiley and Sons, 1999.
Popov, B, R. Galikj at al. eds., Skopje, grad na solidarnost [Skopje, city of Solidarity], Fond za obnova I izgradba na Skopje, Skopje: NIP Nova Makedonija, 1975
Roth, Alfred. Architect of continuity, Zürich: Wasser, 1985.
Roth, Alfred. Begegnung mit Pionieren [Beginnings with the Pioneers], Basel and Stuttgart: 1973
Roth, Alfred. La Nouvelle Architecture, Zürich: Girsberger, 1940.
Roth, Alfred. The New Schoolhouse, Zürich/Stuttgart: Verlag fűr Architektur, 1966.
Roth, Alfred. Zwei Wöhnhäuser von Le Corbusier und Pierre Jeanneret [Two Houses from Le Corbusier and Pierre Jeanneret], Stuttgart: 1927 (new edition, 1977).
Senior, Dereck, ed. Skopje Resurgent: The Story of a United Nations Special Fund Town Planning Project. New York: United Nations, 1970.
Simovski, Vladimir. "System for modification and reduction of the seismic and other dynamic forces and isolation of vibrations" PhD diss. University Ss. Cyril and Methodius in Skopje, 1985.
Siegenthaler, Rolf. "Earthquake-proof building supporting structure with shock absorbing damping elements". Schweizerische Bauzeitung, Sondendruck aus dem 89. Jahrgang, Zürich, 1970.
Skopje 26.07-02.08.1964. Sredba na solidarnosta [Skopje 26.07.-02.08.1964. A Meeting of Solidarity]. Skopje, NIP Nova Makedonija, 1964.
Skopje, urbanistichka studija - 2 [Skopje, urban study - 2]. Skopje: Zavod za urbanizam i arhitektura, 1964.
Staudacher, K. "Protection for structures in extreme earthquakes: Full base isolation (3-D) by the Swiss Seismafloat System", Nuclear Engineering and Design, Vol. 84, Issue 3, Feb. 1985.
Staudacher, K. "The Swiss Full Base Isolation System (3-D) for Extreme Earthquake Safety of Structures", Proceedings of the 1982 Convention of the Structural Engineers Association of California, USA, 1982.
Stierli, Martino, Vladimir Kulić, et al. Toward a Concrete Utopia: Architecture in Yugoslavia, 1948–1980. New York, NY: The Museum of Modern Art, New York, 2018.
Thaler, Wolfgang, Maroje Mrduljash, Vladimir Kulic. Modernism In-Between: The Mediatory Architectures in the Socialist Yugoslavia. Berlin: Jovis, 2012.
Tomich, Vera. Education in Yugoslavia and the New Reform: The Legal Basis, Organization, Administration and Program of the Secondary Schools. U.S. Department of Health, Education and Welfare. Bulletin, 1963, No. 20.OE-14089 retrieved from https://www.eric.ed.gov/?id=ED544059
Tolic, Ines. Dopo il terremoto, La politica della ricostruzione negli anni della Guerra Fredda a Skopje [After the Earthquake: The Reconstruction Policy in the Cold War years in Skopje]. Parma: Diabasis, 2011.
On the Traces of Friendship, Johann Hainrich Pestlozzi School in Skopje. Directed by Trajche Popov. Vardar Film, 1969.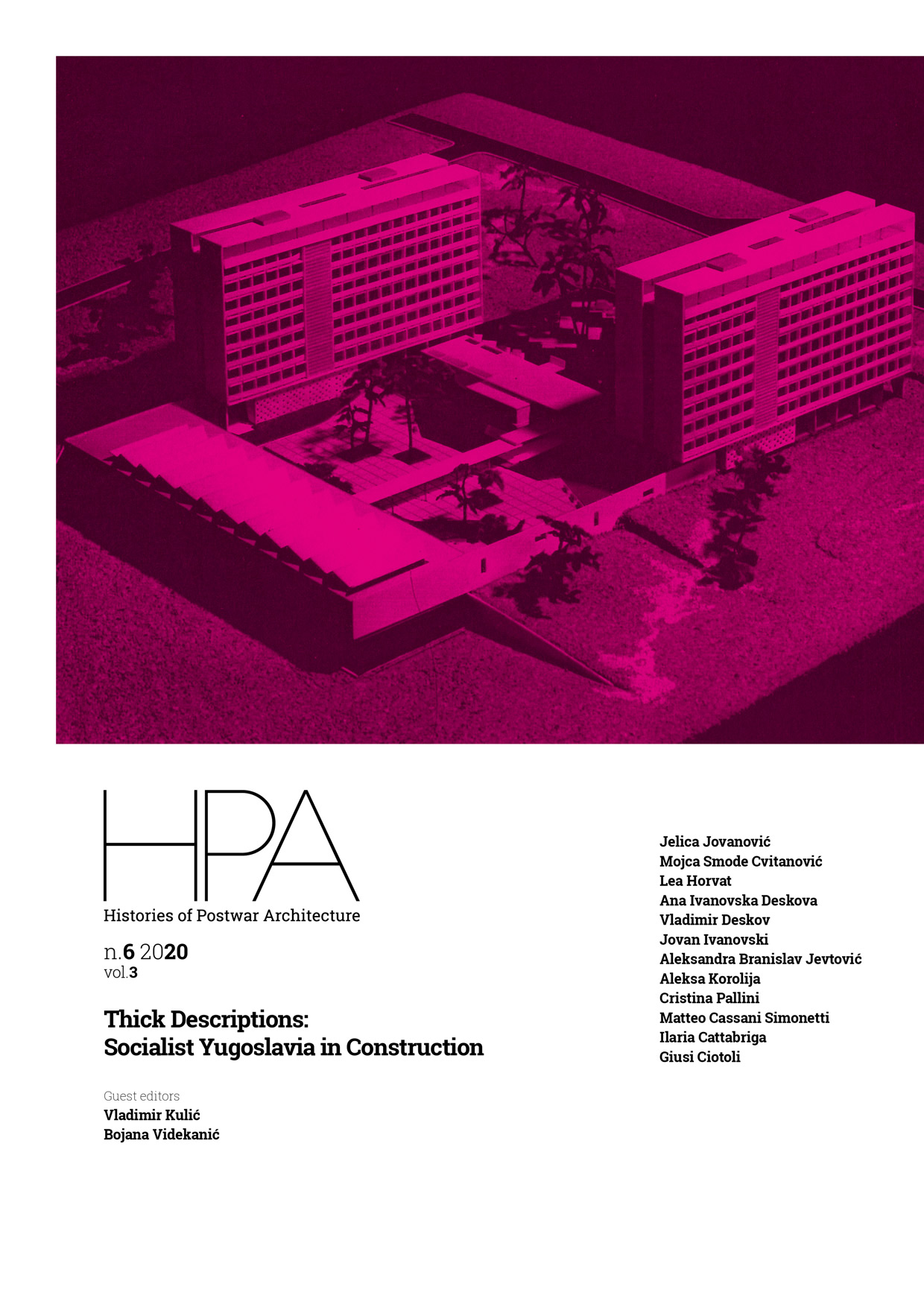 Downloads
How to Cite
Ivanovska Deskova, A., Deskov, V., & Ivanovski, J. (2020). Constructing the City of Solidarity: Alfred Roth's Elementary School in Skopje. Histories of Postwar Architecture, 3(6), 121–137. https://doi.org/10.6092/issn.2611-0075/10412
License
Copyright (c) 2020 Ana Ivanovska Deskova, Vladimir Deskov, Jovan Ivanovski
This work is licensed under a Creative Commons Attribution 4.0 International License.