The Highway of Brotherhood and Unity as a Cross-Cut into the Yugoslavian Epic
Keywords:
Highway construction
Abstract
The Highway of Brotherhood and Unity - the motto of Yugoslav Communists – may help us decode the multiple layers of meaning interlocked in the built environment. Undoubtedly, construction of the Highway was organic to national cohesion. Built by brigades of young volunteers, the Highway allowed a one-day trip across Yugoslavia: an experiential approach of the common motherland by which "federalism" acquired a concrete dimension.
From an architect's viewpoint, our contribution lays claim to a project-oriented approach to the Highway as a coherent built-up form, posing new technical problems, yet orienting urban change and opening up a whole range of narratives. To do that, we oscillate back and forth actual construction of the Highway - combining engineering, landscape design, urbanism and architecture - and its role as a catalyst of new collective perceptions and behavioural patterns. The Highway provided the centre of gravity for a far-reaching cross-cultural venture, a large-scale collective work of art.
References
Andersen, Tea Sindbaek. "Youth Brigadiers at the Railway- Personal Perspectives on Tito's Yugoslavia in the Making." In Machineries of persuasion. European soft power and public diplomacy during the cold war, edited by Oscar J.Martin Garcia, Rosa Magnusdottir, 105-120. Berlin/Boston: De Gruyter, 2019.
Blagojević, Ljiljana. Novi Beograd. Osporeni modernizam. Beograd: Zavod za Udžbenike, 2007.
Blau, Eve, and Ivan Rupnik. Project Zagreb. Tradition as Condition, Strategy, Practice. Barcelona: Actar, 2007.
Bogdanović, Bogdan. "Belezi." In Mali Urbanizam. Sarajevo: Narodna prosvjeta, 1958.
Bohinec, Marjan. "Urbanisticko-arhitektonski elementi pri projektovanju i izgradnji autoputeva – povodom autoputa Ljubljana-Zagreb." [Urban-architectural elements in the design and construction of highways - on the Ljubljana-Zagreb highway] Arhitektura Urbanizam 3 (1960): 38.
Čavlovič, Melita. "Constructing a Travel Landscape: A Case Study of the Sljeme Motels along the Adriatic Highway. "Architectural Histories 6(1) (2018): 1-14. http://doi.org/10.5334/ah.187.
Cortesi Aurelio. "Politica e architettura in Jugoslavia: revisionismo e ortodossia." [Politics and architecture in Yugoslavia: revisionism and orthodoxy] Casabella-Continuità 255, (September 1961): 4-23.
Hofman, Ivan. Mi gradimo prugu-pruga gradi nas. Omladinske radne akcije u Jugoslaviji 1946-1951. Katalog izlozbe. [We build the railway. The railway builds us. Youth Labour Actions in Yugoslavia 1946-1951. Exhibition Catalogue] Beograd: Arhiv Jugoslavije, 2012.
Geertz, Clifford. The Interpretation of Cultures. New York: Basic Books, 1973.
Golubović, Jovan (ed.). Beograd- grad akcijaša. [Youth on the path to Brotherhood] Beograd: Gradska Konferencija SSO Beograd, 1985.
Ivanković,Vedran. "Moskovski Boulevard – Ulica grada Vukovara u Zagrebu 1945.-1956. godine. Arhitektura i urbanizam na razmedju Istoka i Zapada." Prostor: a journal of architecture and urban planning Vol 14 No.2(32): 178-195.
Jaksić, Milica. "Novi Beograd-III rejonski centar. " [III raion center in New Belgrade] Urbanizam Beograda 12 (1971): 11-14.
Janković, Milica. "Detaljni urbanistički plan stambenog naselja Konjarnik u Beogradu." [Konjarnik's residential neighborhood detailed urban plan] Arhitektura Urbanizam 41-42 (1966): 51-52.
Jovin, Branislav. "Detaljni urbanistički plan za izgradnju auto-puta kroz Novi Beograd." [Detailed urban plan for the construction of the Highway through New-Belgrade] Arhitektura Urbanizam 41-42 (1966): 22-23.
Id. "Detaljni urbanistički plan za izgradnju saobraćajnog trga Mostar." [Detailed urban plan for the construction of the Mostar traffic plaza] Arhitektura Urbanizam 41-42 (1966): 26.
Id. "Studija za urbanističko rešenje rejonskog centra Mostar u Beogradu." [A study for the urban design of the Mostar raion centre in Belgrade] Arhitektura Urbanizam 41-42 (1966): 66-67.
Id. "Auto-put kroz Beograd". [Highway through Belgrade] Urbanizam Beograda 1 (January 1969): 1- 4.
Kadijević, Aleksandar. Mihajlo Mitrović. Projekti, graditeljski život, ideje. Beograd: Muzej Nauke i Tehnike-Muzej Arhitekture, 1999.
Konjikušić, Davor. "Autocesta / The Highway". https://www.davorko.net/#/autoput-highway/.
Krstić, Aleksandar. "Obrada predela duž saobraćajnica," [Landscape design along the roads] Arhitektura Urbanizam 56-57 (1969): 84-89.
Krulić, Josip. Storia della Jugoslavia dal 1945 ai nostri giorni [History of Yugoslavia from 1945 untill present day]. Milano: Bompiani, 1999.
Kulić, Vladimir. "Building Brotherhood and Unity: Architecture and Federalism in Socialist Yugoslavia". In Toward a Concrete Utopia: Architecture in Yugoslavia 1948-1980, edited by Martino Stierli, Vladimir Kulić et al., 26-40. New York: MoMA, 2018.
Macura, Milorad. "Tuge i ushiti pejzaža." [Landscapes' sadness and elation] Arhitektura Urbanizam 56-57 (1967): 44-49.
Macura, Milorad. "Autoput, "[Highway] Arhitektura Urbanizam 3 (1960): 5.
Matosević, Andrea. "Omladinske radne akcije: kontinuiteti i odmaci iz iskustva akcijaša." [Youth Labour actions: continuity and departures from the experiences] Traditiones 44/3 (2015): 93-111. doi:10.3986/Traditio2015440305.
Maksimović, Stojan. "Detaljni urbanistički plan dela rejonskog centra na Dušanovcu". [Dušanovac's raion center detailed plan] Urbanizam Beograda 10 (1970): 4-5.
Mikula, Maja. "Highways of Desire. Cross-Border shopping in former Yugoslavia 1960s-1980s". In Yugoslavia's sunny side: a history of tourism in socialism (1950s-1980s ), edited by Hannes Grandits, Karin Taylor, 211-237. Budapest: Central European University Press, 2010.
Mitrović, Mihajlo. "Putnička železnicka stanica u Zenici na Omladinskoj pruzi Šamac-Sarajevo. [Travellers train station in Zenica on the Šamac-Sarajevo railroad]" Arhitektura 8-10 (1948), 39-40.
Id. "Zapis o tri moja dela." [A text about three buildings of mine] Arhitektura Urbanizam 66 (1970), 22-27.
Moholy-Nagy, László. Vision in Motion. Chicago: Paul Theobald, 1947.
Pirenne, Henri. Medieval Cities: Their Origins and the Revival of Trade. New York: Doubleday, 1956.
Pozharliev, Lyubomir. "Collectivity vs Connectivity: the techno-historical example of motorway peripherization in former Yugoslavia." The journal of transport history, Vol. 37(2)(2016): 194-213.
Radovanović, Vanja. "Kad smo gradili autoput." posted on 07.11.2014. http://pogledaj.to/drugestvari/kako-smo-gradili-autoput/
Sazezni Zavod za Statistiku. Jugoslavija 1918-1988: Statistički godišnjak, Beograd: Savezni Zavod za Statistiku, 1989. http://publikacije.stat.gov.rs/G1989/Pdf/G19892004.pdf.
Sedlar, Saša. "Problemi urbanistici della ricostruzione di Skopje. " [Urban issues of Skopje's reconstruction] Umana, rivista di politica e di cultura 5-6 (1966): 17-23.
Šegvić, Neven. "Stanje stvari – jedno viđenje (1945-1985)." Arhitektura 196-199 (1986): 118-128.
Šekularac, Ivana. " Former Yugoslavia's brutalist beauty – a photo essay –" The Guardian, October 31, 2019.
https://www.theguardian.com/artanddesign/2019/oct/31/former-yugloslavia-brutalist-beauty-a-photo-essay.
Senjković, Reana. Svaki dan pobjeda. Kultura omladinskih radnih akcija [Every day a victory. The culture of the Youth Labour Actions]. Zagreb: Institut za etnologiju i folkloristiku, 2016.
Senjković Reana. "Uvod." In Omladinske Radne Akcije. Dizajn Ideologije [Youth Labour Actions. Ideology's Design], edited by Sanja Bacharach Kristoforić, Mario Kristoforić, 5-14. Zagreb: Umjetnicka organizacija Kultura umjetnosti, 2017. https://yuhistorija.com/serbian/doc/Omladinske%20radne%20akcije%20-%20dizajn%20ideologije%20-%20KATALOG.pdf.
Siegelbaum, Lewis. Strakhanovism and the Politics of Productivity in the USSR, 1935-1941. Cambridge: Cambridge University Press, 1988.
Stefanović, Momčilo. Svitanja na rukama. [Dawns on hands] Beograd: Export-press, 1969.
Supek, Rudi. Omladina na putu do bratstva. Psihosociologija radne akcije. [Youth on the way towards Brotherhood. Pshyco-sociology of the Youth Labour] Beograd: Mladost, 1963.
Stajević, Svetislav. "Naši putevi." [Our roads] Arhitektura Urbanizam 3 (1960): 6-11.
Tange, Kenzo. "From Architecture to Urban Design." The Japan Architect no. 31-2 (1967): 23-28.
Id. "Skopje Urban Plan 1965." The Japan Architect no. 31-2 (1967): 28-70.
Tolić, Ines. Dopo il terremoto. La politica della ricostruzione negli anni della Guerra Fredda a Skopje [After Earthquake. The politics of reconstruction in the Cold war years in Skopje] Parma: Diabasis, 2011.
Tomasevich, Jozo. "Immidiate Effects of the Cominform Resolution of the Yugoslav Economy." In War and Society in East Central Europe vol.X, edited by Wayne Vuchinich, 89-130 (New York: Columbia University Press, 1982).
Ofak, Ana. Agents of Abstraction (Berlin: Sternberg Press, 2019).
Vejzagić, Saša. "The importance of Youth Labour Actions in Socialist Yugoslavia (1948-1950): a Case Study of the Motorway Brotherhood-Unity." Master of Arts, Central European University, Budapest, 2013.
Vranić, Dubravka. "The Zagreb Fair as a Generator of New Zagreb's Planning." Journal of Planning History, (January 2020). doi:10.1177/1538513219897052.
Washington, DC: World Bank. http://documents.worldbank.org/curated/en/850631468177844374/Yugoslavia-Highway-Project
Wenzler, Fedor. "Stanica na autoputu Bratsvo-jedinstvo." Urbanizam i arhitektura 9/10 (1950): 35-37.
World Bank. 1963. Yugoslavia - Highway Project (English). Technical operations projects series; no. TO 367.
Zarecor, Kimberly E. "What Was So Socialist about Socialist City? Second World Urbanity in Europe." Journal of Urban History Vol.44 (I) (2018): 95-117.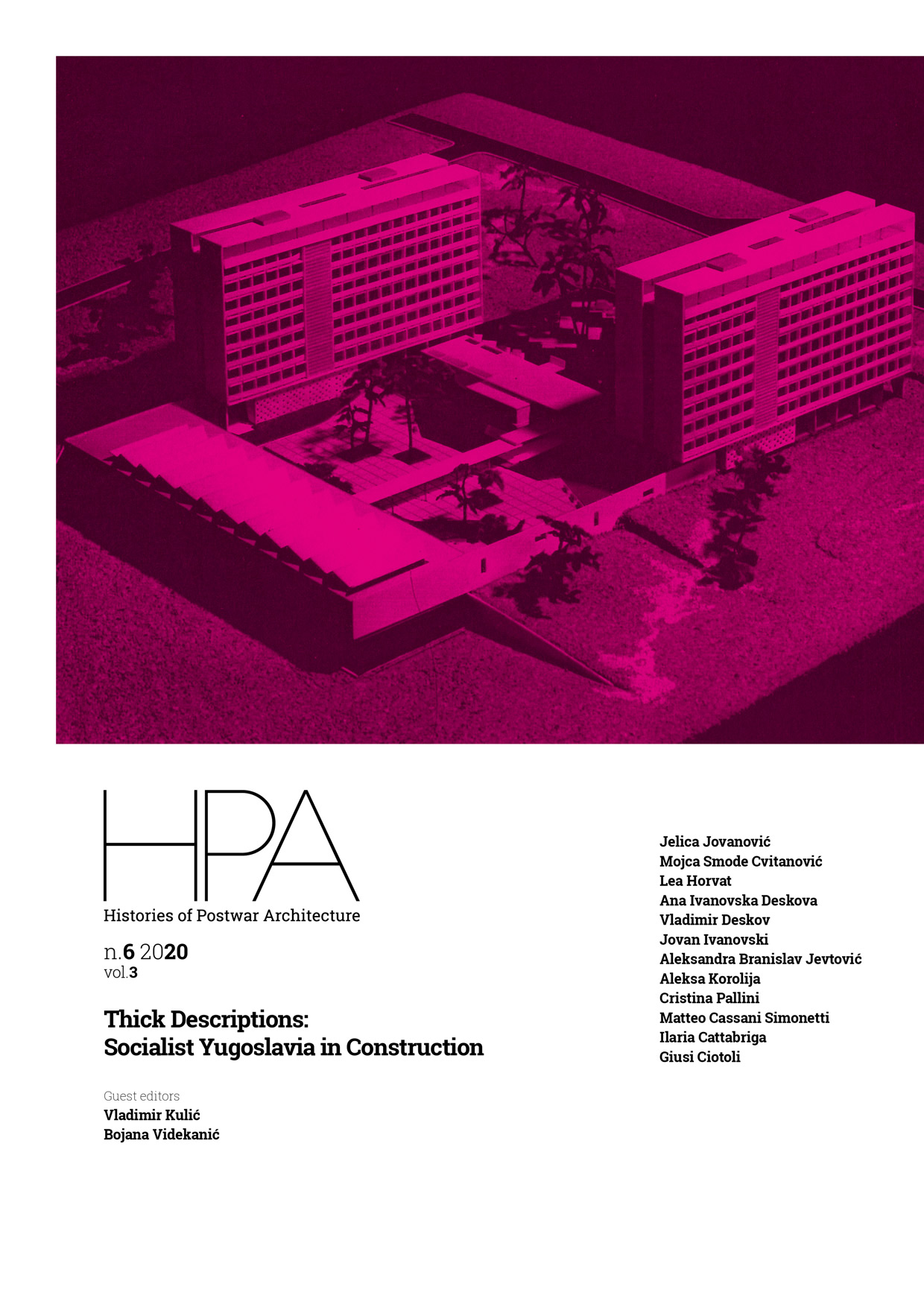 Downloads
How to Cite
Korolija, A., & Pallini, C. (2020). The Highway of Brotherhood and Unity as a Cross-Cut into the Yugoslavian Epic. Histories of Postwar Architecture, 3(6), 93–120. https://doi.org/10.6092/issn.2611-0075/10116
License
Copyright (c) 2020 Aleksa Korolija, Cristina Pallini
This work is licensed under a Creative Commons Attribution 4.0 International License.